Ethical Farming is not a commercial activity, it is a way of life.
A research project of TGG Foundation, an Ahimsa farm following ethical practices.  A unique place to participate and experience sustainable living, a world in its natural habitat, a place that can ignite your conscious. Yes you got it right, we are talking about The Green Gardens (Coordinates: 11°36'27″N 76°14'6″E), a sustainable living research project of TGG Foundation maintained by Navajyothi (Kerala), a self help group supported by the Trust. It is located near Edakkal Caves, a UNESCO approved world heritage site, a place that has the reminiscence  of stone age and its much correlated theories with Indus valley civilisation. It is certainly a location with some history worth exploring.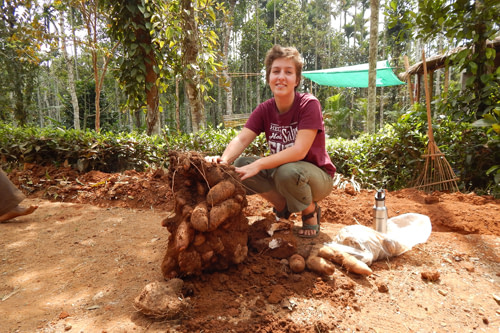 Sustainable Living Practice
We maintain The Green Gardens, a 100% Ethical Farm following organic practices in Sulthan Bathery thaluk, in the district of Wayanad, Kerala as a model farm, where we are able to implement various sustainable developments, provide year round livelihood for 3 women and a man and extends opportunities to socially responsible people from across the world through our Responsible Human Mission program. Sustainable living practice in a unique opportunity to engage in farming, traditional cooking, tea processing, livestock management, plant nursery management, bio diversity creation, etc. while you stay and enjoy the peace and tranquillity of this ethical farm. it is a non-commercial activity and the amount paid by you for accommodation is treated as donation and is used for the construction of our Rural Development Hub for livelihood creation in Wayanad. It is a noble cause and you are entitled for Income tax exemption under 80G for your donation. 
Obtain RHM Registration prior to booking SLP
Sustainable living experience
For nature lovers, spiritual traveler, and people who are in search of solitude can choose our sustainable living experience offered at The Green Gardens once becoming a member of the Responsible Human Mission. We encourage long stay for all those opting for this unique experience that can detoxify your mind and body completely by engaging in slow life, Yoga & Meditation, simple eating habits, barefoot nature walk, spending time with animals, enjoying the music of birds, chemical fee life and much more…….it is a non commercial activity and the amount paid by you for accommodation is treated as donation and is used for the construction of our Rural Development Hub for livelihood creation in Wayanad. It is a noble cause and you are entitled for Income tax exemption under 80G for your donations. 
Obtain RHM Registration prior to booking SLE
We are trying to be self sufficient, in which we consume mainly what is been produced in our farm; for example Tea, coffee, spices, coconut oil, vegetables, fruits, eggs, milk, etc.comes from our farm. We also use effective waste management techniques resulting in close to zero waste as well as minimal energy consumption. The clay bricks that we use for construction are made using the soil and water from our farm. We also produce bio-fertilizer in our carefully designed compost system and is used in enriching the quality of the soil. Our next aim is to use renewable energy through wind, solar, and bio–energy for self sustainability.
A carefully designed food chain system, zero waste and zero budget are the principle that we follow in our sustainable living practice. The inter dependency of each components make the life cycle more important. The farm currently manages 4 cows, 12 goats, 16 chickens, 8 ducks, 4 gooses, 6 pigeons a plant nursery as well as various crops and plant varieties. We currently produce pepper, green tea, coffee, cardamom, ginger, turmeric, yams, avocado, jack fruit, guava, orange, banana, coconut etc.. We also produce milk & eggs and seasonal vegetables that are used for internal consumption at the farm – as meals are prepared daily for all workers. In the upcoming year we also expect to cultivate mushrooms, azolla, medicinal plants and add turkey to our livestock collection.
A development model initiated by TGG Foundation in its journey for equality is visible through this project. It balances socialist and capitalist mindset through a neutralizing approach. Here the role of TGG Foundation is that of a SUN in a solar system (constantly giving energy without any expectations and allowing the planets to orbit within its defined path). We envision a society that is consciously progressive and ethically clear. 
The purpose of education is to create good human beings and to open the eye of the seekers to connect to the real world, a higher self imprint of understanding of the "what" and "why".  As we know that all inventions and innovations are a copy of something that already exist in this universe, we are not creating anything new in this planet, instead we are only duplicating it in different ways. The realisation of the true knowledge enhances our perception, making us own up the responsibilities, ultimately developing compassion, altruism intent and actions with others.
Each year, we spend our savings to create additional revenue verticals in order to attain self sufficiency. Our research and innovation division has created a handmade green and white tea processing unit which is 100% energy efficient that is ideal for small tea growers allowing us to produce premium quality green tea in our own garden. Livestock in our farm has fulfilled our fertiliser requirement, milk and egg, we are presently working on setting up a bio gas unit to make us self sufficient in cooking gas requirement as well. Plant nurseries developed by us have enabled us to create saplings for our internal plantation and for sales. We are preparing bio fertilizers and bio pesticides such as vermin compost, panchagavya, jeevamrutha, indigenous micro organisms & nitrogen bio-fertilizers, these are soon available for sale though us. Fresh coffee powder, turmeric powder, ginger powder are also available for sale. The self help group of TGG Foundation undertakes all the cultivation, maintenance and sales activities. Volunteering has enabled us to gain contact, knowledge and reduced our cost of production and maintenance.