TYPE OF ONSITE VOLUNTEERING ACTIVITIES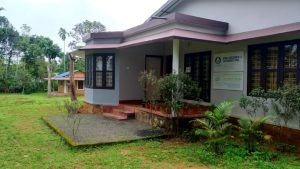 UN-LEARN COMPETITION AND RE-LEARN COLLECTIVENESS (ONSITE PROGRAM AT RHM CENTER)
EXCHANGE PROGRAM:- 5 hours of office & creative work to generate revenue to set-off the Accommodation Cost exchanged by the foundation.
VOLUNTEERING PROGRAM:- Community development projects are aimed for the development of the community and it is volunteered by the participants as part of their social responsibility or to express their gratitude to the community.
---
---
---
---
---
COMMON ACTIVITIES: Cooking & cleaning, collecting dry leaves, vegetable garden maintenance, harvesting, watering plants, social media promotions, videography & photography, etc.
OUR PRACTICE: We practice minimalism at the RHM Center hence we encourage two major meals a day, recycling & upcycling, simple living, low carbon footprint, sharing resources and cost effective travel. Alcohols and Smokes are strictly prohibited.
ACCOMMODATION : For volunteers who are not opting for the Exchange Program, we can offer a double room with private bathroom in our natural Earth House, priced at an affordable rate of Rs. 2000 per day for couples. Alternatively, for those seeking a more budget-friendly option, participants can opt to share a room with fellow volunteers, paying just Rs. 500 per day. In this arrangement, a shared washroom facility is conveniently located at 25 meters from your room, fostering a sense of belonging and trust among volunteers while ensuring cost-effectiveness.
For volunteers opting for the Exchange Program, shared dorm (on twin sharing basis) with toilet facility located 25 meters from the room are exchanged.
COOKING FACILITY & GROCERY FOR VOLUNTEERS: At the RHM Center, we've set up a community kitchen for everyone who comes here. We like to keep things simple, so we have all the basic things you need to make Indian meals. We have rice, wheat flour, lentils, spices for South Indian curries, tea, coffee, powdered milk, sugar, salt, coconut oil, and fresh seasonal vegetables. If you want anything else for your cooking, you can source it from a store about 3 kilometers away from the RHM Center. On a phone call, they will deliver it to the RHM Center for you, but you'll have to pay for it.
CULTURE EXCHANGE: We, the hosts at the RHM Center, are also the founders of TGG. We enjoy meeting people who are truly interested in a simple way of life and are transitioning from thinking about "I" to embracing "WE". We've already lived most of our lives and doesn't have much desire for material needs, and are dedicating our time to help those who are starting a transformative journey. In our daily routine while we are at the RHM Center, we prepare morning refreshments at 8 AM, breakfast at 10 AM, tea and snacks at 2:30 PM, and dinner at 6 PM. We're happy to share our meals with everyone here if you express your willingness in advance and respect our meal times. During dinner, we encourage sharing dishes, so you can cook one or two items and we can have a potluck dinner. Additionally, from 7 PM to 8 PM, we encourage informal conversations to strengthen our bonds without any barriers or cultural differences.
KNOWLEDGE EXCHANGE: We will assess your enthusiasm, dedication, abilities, and talents while you volunteer with us, and we will provide opportunities for you to explore and develop them until you feel confident and excel in your chosen area. Throughout your volunteering period, you will also gain knowledge about our alternative way of living and the advantages of collaboration in a competitive world. On Sundays, there is no obligation to participate in any activities, especially if you plan to be out for the entire day. All participants who successfully complete the program will become members of the Nomad Community of Responsible Humans / RHM Club / Associate, depending on their interest.
ONLINE INTEGRATION: Volunteers planning to join us from November 1st to March 31st, are kindly asked to complete an online orientation program before their arrival. This will ensure a smoother transition and reduce the need for extensive assistance upon arrival, enabling them to seamlessly integrate into our volunteering project. Our Experiential Learning Programme takes place from November to March, and as our daily schedule is quite packed during this period, we may have limited availability to personally introduce volunteers to the project and activities, potentially causing them to feel less connected.
YOGA PROGRAM: Under NISD School of Yoga, yoga training is offered through approved yoga school in Wayanad at an additional cost. Interested candidates can opt for it by paying the fee.
EXPLORE WAYANAD: Many tourist places are closed on Mondays, so it's a good idea to plan your visits on your days off. You can find more information at Wayanad Tourism. The nearest bus stop to the RHM Center is ONNEYAR, just 1 km away. You can also take an auto or taxi to get around. The closest train stations are Kozhikode and Mysore, both about 100 kilometers away. The main bus station near the RHM Center is Sulthan Bathery, approximately 18 kilometers away. The nearest airports are Calicut International Airport, Kannur International Airport, and Mysore Airport, all approximately 100 kilometers from Wayanad.