Homeless Cancer and Stroke Patient
Story of Vijayalakshmi and Rajan​
They have lived in our community in Wayanad all their lives. Vijayalkshmi is 60 and has cancer. Rajan is 70 and is paralysed on the left side of his body after suffering a stroke.
When we first began conversations with them the couple were living in the shack you can see in very poor conditions. Along with their son Vishnu, they had continuously reached out to the local Gram Panchayat for help to improve their housing situation for 3 years with no success.
With the monsoon season fast approaching the likelihood of their shack surviving the rains was not good.
To make matters worse neither Vijayalkshmi nor Rajan has a pension to fall back on.
The family was surviving on the Rs 8,000pm generated trough Vishnu's job and were already financially stretched.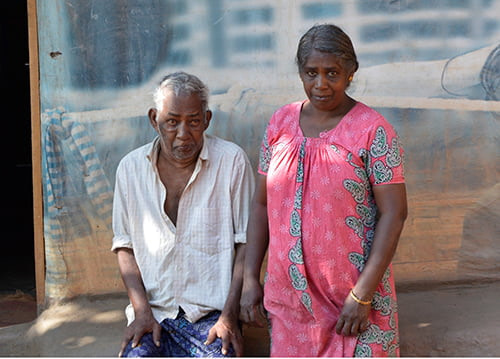 Once the grievance was received by us in December 2016, through Fariyaad, a Responsible Indian Mission program of TGG Foundation, the following people got into action:
| | |
| --- | --- |
| S.v.Laiju, | TGG Foundation Chairman |
| Prem Kumar | TGG Foundation Working Committee Member |
| Anitha Manikandan | Panchayat Ward Member |
| Kurian Sebastian | Local representative and ex-panchayat member |
| Vishnu | Son of Vijayalakshmi & Rajan |
Firstly we visited the District Collector to update the matter in person. He promised to look into the pension issues and other medical facilities as a priority. He also advised the ward member to take at the matter to the Gram Panchayat level to see what best can be done to provide them funds for completing their house work. The letter submitted to the District Collector's office was referred to the Block Panchayat. The Block Panchayat official visited the house of Vijayalaskhmi and Rajan to get a first hand information about the report submitted by us. Vijayalakshmi was asked to submit her ration card, application form and other relevant papers to the Village Officer for necessary action.
As we saw the progress were very slow to get any sort of relief to meet the requirements of a house before the monsoon sets in, Vishnu along with the support of the local community and TGG Foundation decided to change their destiny. TGG Foundations contacted some of the noble souls who immediately came forward and extended their whole hearted support for this cause. It reminds us time and again that we have to be the change we wish to see in our society. We share the joy of elevating one more family from acute poverty.
We thank the Almighty for giving us an opportunity to help the suffering ones.
Our sincere gratitude to the generous people who have upheld humanity.
| Name | Company | Place | Amount |
| --- | --- | --- | --- |
| Mr. Rajeev Dimri | BMR Associates | Delhi | ₹10000 |
| Mr. Ravi Malhotra | S C Kumar & Co. | Delhi | ₹20000 |
| Mr. Kannan Natraj Sharma | Personal Gift | Bangalore | ₹5000 |
| Mr. Rob Marsh & Ms. Hannah | Personal Gift | Wayanad | Two Doors |
| RIM Members | TGG Foundation | Wayanad | ₹336 |
Details of Fund Utilization
| Purpose | Paid To | Place | Amount |
| --- | --- | --- | --- |
| Roofing Material | T. C. Store | Vaduvancahl, Wayanad | ₹15980 /- Paid by Cheque |
| Cement for flooring work | T. C. Store | Vaduvancahl, Wayanad | ₹3290/- Paid by Cheque |
| Labour (flooring & skirting work) | Hari Kumar | Thekkankolli, Wayanad | ₹10550/- Paid by Cheque |
| Electrical work | O. C Store/Nitin | Ambalavayal, Wayanad | ₹5516/- Paid by Cheque |
Let this be an inspiration for many more people who are waiting to participate in similar cause in future.
If you would like to contribute to such causes in the future please contact us