An Initiative By The Golden Greens (TGG) Family
Our Vision, Mission and Philisophy
TGG Foundation, a self-sustaining, not-for-profit, registered Public Charitable Trust with the exemption under section 12A & 80G of Income Tax Act, FCRA certified by Ministry of Home Affairs, a member of Niti Ayog (DARPAN) by Government of India and is certified by Guidestar India for transparency. The seed funding of the Foundation is done by The Golden Greens (TGG) and it has imbibed the value system created by TGG Family, with over 80% of the funds directly benefiting the rural community, primarily through livelihood creation. The Foundation has partnered with Omprakash an NGO based in the US and also with The Deutsch-Indische Zusammenarbeit Baden-Württemberg e. V. (DIZ BaWü) an NGO based in Germany in addition to collaborating with Uka Tarsadia University for Sustainable Rural Development Research Programs. The Foundation has not availed any Govt. subsidies, not obtained any grants or donations for their day to day operations. Most of the funding has come in the form of interest-free loans from The Golden Greens with a 5-year moratorium to payback. The activities of the TGG Foundation started on 14th January 2012 in a small way and thereafter, constituted as a public charitable Trust in August 2014. This Trust aspires to bring remarkable changes in the life of the people across the world, through human transformation.
Registration No: 69/IV/152/2014
12A: AACTT4554A/09/14-15/T-0195
80G: AACTT4554A/09/16-17T-0016/80G
NITI Aayog: KL/2017/0117389
Guidestar (Transparency) : 10456
Board of Trustee – Indian Nationals (Policy Making)
Executive Committee (EC) – Indian National (Permanent Membership)
Global Ambassador (GA) – Foreign Nationals
Advisory Board & Ethics Committee ( AB & ET)- All Nationals
Working Committee (WC)- All Nationals
Extended Family (EF) – All Nationals
Volunteer Coordinator (VC) – All Nationals
Operational Volunteers (OV) – All Nationals
Ground Volunteers (GV) – All Nationals
Beneficiaries (BF) – All Nationals
In addition to the above participants, we also have Patrons who support us from outside the system through their positive energy.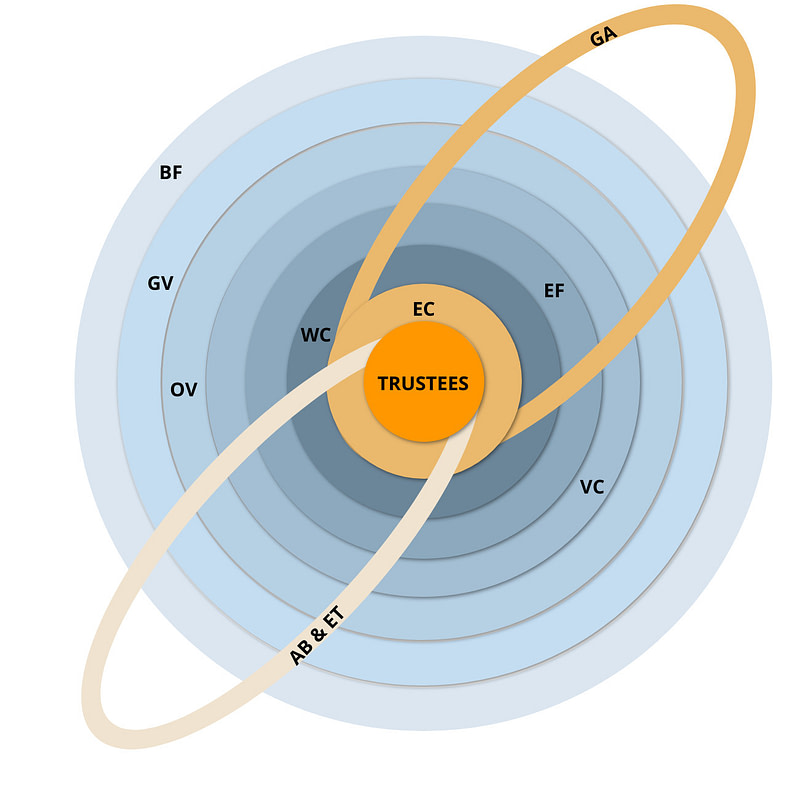 Responsible, Accountable & Sustainable activities through human transformation.
Ethical agriculture production through Sustainable Living Practices.
Livelihood opportunities for women in farming community to supplement their income.
Research and Innovation centers for innovative practices and inventions.
Self-sustaining financial operations without dependence on donations.
Start up support for Social Enterprises.
Short term interest free loans (Mooldhan) to SHGs registered with TGG Foundation.
Developing and promoting strong local economies which benefit farmers.
Socially responsible programs for justice and peace.
RHM Center for self-realised worldwide human unity.
People Planet Partnership (PPP): It is a sustainable rural development model established by TGG Foundation through stakeholder engagement, that ensures responsibility and accountability at all level. This model of development aims to engage people with natures in a conscious manner through a code of practice that is impersonal in nature. 
Community Development: We promote sustainable living practices (live minimal) to foster social upliftment and efficient use of human productivity.
Equality: We encourage equal respect of all individuals in the community regardless of religion, caste, ethnicity, and gender.
Social Responsibility: Through this equal respect of individuals we hope to foster a sense of social responsibility of all individuals to equally contribute their best ability to their community.
Environmental Responsibility: We are committed to effective natural resource management including renewable energy use and zero waste to ensure a harmonious relationship between communities and the environment.
Accountability & Transparency: We remain accountable and transparent to our communities about our funds and management decisions, giving space for others to provide their feedback and opinions. We are also determined to cultivate a society that is equally accountable and responsible to their community, locally, regionally, and globally.
Earn, but spend to reduce inequality.
Produce quality products that are durable and abandon the "use and throw" way of living.
Focus on our core strength (agriculture) and produce food consciously for consumption and not as a commodity.
Reuse most of the items with a certain amount of modifications or alterations to reduce the exploitation of natural resources.
Reduce the population of human beings through a conscious approach by reducing the birth rate.
The urban community should realize the role of the rural community in their lives and should be humble enough to contribute a portion of their income towards the welfare of the rural community.
If someone is becoming over rich through unethical means, then he/she is exploiting many others to be there so the taxation should be very high on such people in order to contain hyperactive tendencies that add pressure to the planet and damages to the ecosystem.
There should not be any compromise with the National security, the defence is better than offence till it has crossed all three stages.
Having a corruption-free Nation is the responsibility of all citizen and the corrupt systems should vanish/disappear.
The public servant should understand the meaning and their role in society. He/she should be responsible and accountable for every work entrusted to him/her and must discharge it ethically.
Religion and politics should never be hand in glove with each other.
We believe in One World philosophy and it is equated as a family (Nation) and community (World). The protection of the family and harmony within the community should co-exist.
The commodification of essential items should end to retain humanity in this world.
The health sector to be taken out of a business community who works on ROI. Instead, Government and Not-for-profit organizations should create infrastructure and hand it over to Doctors through a responsible and accountable process.
Every creation on this planet is marvellous and plays a vital role in the existence of the ecosystem. We have no right to discriminate or destroy them. since we are just a visitor and not the creator.
Educational institutions must bring in values in their system and create responsible human beings.
Optimum use of natural resources including water is essential in order to make it available for future generations to come.
Human interference to create an unsafe environment is objectionable and unethical to the Living kingdom.
Food safety and security to all.
Chemical-free & Plastic-free life.